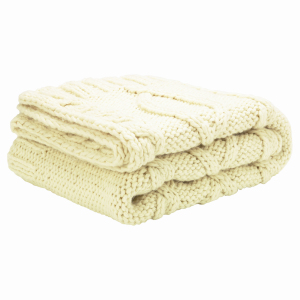 Keep misery out this Winter
The next person who asks me to sign a petition against Global Warming~ is going to get their clipboard banged on their head.
Where is this promised Warming ? Why are we shivering and blue with cold ? And why is Macmillan starting their winter warming campaign even earlier than usual ?
Luckily, my friend Sally popped in with the most fantastic present -it's there on the Right – and the glumps have disappeared.
She saw a Cable knit throw when she was in Tesco – and thought of me ! Bless !
And this throw is the most fantastic thing to have around.
In the day I snuggle under it to watch TV, cuddle in to when phoning, and elegantly (well, I try) spread it over my legs to keep out chill winds.
And at night it lies on my bed, and ever since I put it on top of the duvet I don't have cold feet any longer.
Don't know why, but I don't get hot flushes – I get cold feet! But thanks to this throw they have vanished.
The throw is supposed to sit on top of sofas and look elegant – but since Sally bought it, it hasn't had time to lie still. It costs £30, is called a F&F home Cable knit throw, comes in cream, size is 130 x 150 (centimetres that is) and is made of cotton and viscose.
If you have to go in to hospital, it is fully machine washable at 30 degrees, so why on earth the NHS doesn't use this material instead of the new slimy thick cotton for blankets, heaven knows. They don't have any warmth.