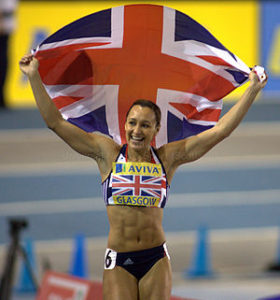 Fresh from winning an Olympic gold medal for the Heptathlon, and keen to build on Team GB's success in the London Olympics.
Jessica Ennis calls on the UK to provide lasting sports facilities for everyone. I take this to mean older people, as well as youngsters.
But once there is more Government committment to 'doing well' at our own Olympics, will Cameron's, Clegg's, Gove's and Uncle Tom Cobley's passionate pleas be allowed to fade quietly away – and we follow Australia? As a country they made a fantastic success of the 2000 Olympics, yet 12 years later they are struggling to win any gold medals.
Exercise is good for you
We are constantly being told that exercise helps overcome cancer, from fatigue to treatment side effects. Yet if we try and get help with this, how often are we given facilities ? Not very often.
Yet when I produced scans and letters showing that exercise had helped reverse osteoporosis (caused as a side effect of cancer drugs), my hospital just shrugged their shoulders, and said they didn't offer any help.
Private v. State
There has been criticism of the number of privately educated members of Team GB who won medals – but often their training was supervised by teachers in the private sector who are passionate about sport, and encouraged by their school to help their pupils on a voluntary basis.
One of the outstanding features of London's Olympics has shown the incredible helpfullness of the volunteers. We could harness this.
At the last Olympics I belonged to a local Health Club, who ran a competition for its members based on Olympic gold medals. The team of trainers devised ten 'sports' based on what we could do, ranging from swimming X amount of pool lengths per visit, to running to and from our homes to the Club. There was a giant scoreboard in the Reception, on which we could mark which sports we were entering, and then watch as our counters moved across the board.
Watching these counters was incredibly motivating; it didn't matter how good or bad we were, we could feel a sense of achievement – and at the end of the Olympics we are all that much fitter.
If Physios would volunteer to set the the 'Games' and a scoreboard, and supervise sessions in hospital gyms, this idea could be adapted to encourage patients to get fitter.
Very often private schools encourage their teachers to go that bit further, and volunteer. And as the Opening Ceremony showed, there were 600 NHS nurses keen to give up an enormous amount of time for rehearsals.
So lets devise properly structured exercise, using volunteers if necessary, and leave a lasting legacy from London's Olympics.