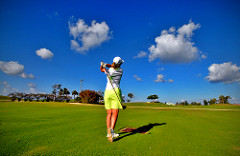 That means checking your golf bag and making sure it contains everything you might need ; which should includes sun cream for protection.
Golfers Are Especially At Risk for Skin Cancer
The first thing you should know is that we all are at risk of developing skin cancer, regardless of race or skin tone. Yet some of us are more at risk than others, and this includes frequent golfers.
Why are golfers especially at risk of developing skin cancer ?
Here's why :
Tee Times : Most people tee off between 10:00 a.m. and 2 p.m., which coincidentally is when the sun's rays are at their strongest. Opt for an early morning or late afternoon tee time instead. It may also save you a few dollars on green fees to tee off at a later time also.
Length of the Game : A typical game of 18 holes will take about 4 hours or so. A busier course will leave you outdoors for much longer, being exposed to harmful UV rays.
Little to No Shade : Yes, golf courses are professionally landscaped with beautiful trees and foliage, but chances are you aren't hanging out underneath them while you are playing. If you can, try to rest under shade while you wait your turn.
What to wear ?
Ideally, you should be wearing long trousers and a long-sleeved shirt. However, this may not be practical in warm weather.
What you can't keep covered, remember to cover with sunscreen, even on cloudy days.
Apply sunscreen to exposed skin, including areas that are often neglected — the hands, ears, and the back of the neck. Golf sandals are becoming increasingly popular, so don't forget to apply sunscreen to your feet if you choose to wear them. Aim for a suncream with a minimum SPF (sun protection factor) of 30.
If you don't use suncreams normally, ask the pharmacist for advice on how to wear them
when to apply (usually 20 – 30 mins before you go out)
how long the protection lasts (SPF 60 will last a lot longer than SPF 30 – but both have to be re-applied frequently)
Sun-protective clothing is also available at sporting goods retailers and at many golf pro shops. The fabric used in sun-protective clothing works like sunscreen, allowing only a limited amount of UV rays to penetrate the fabric. It provides excellent protection and is recommended by several cancer organizations.
A hat or visor isn't just for keeping the sun out of your eyes ; it's also for keeping the sun's harmful rays off your face. Choose a hat or visor with a five-inch brim so it is long enough to provide adequate protection. A golf umbrella is another item that most golfers keep in the bag, but often forget about. An umbrella is a great way to get much-needed shade on those long, sunny days on the green.
Using Sunscreen
Unfortunately, people make a lot of mistakes when it comes to applying sunscreen. Ask the pharmacist's advice on how and when to apply.
How to Choose the Best Sunscreen for your skin type and what you want to do
What SPF Do I Need ?
Do Lips Need Sunscreen ?
And then go out and enjoy ! Remember that walking is one of the best forms of exercise post cancer, particularly if you have osteoporosis.